Our purpose built kennels offer a warm comfortable and secure place for your pets to stay.
We offer a home from home, for holidays or just for a day!
All the kennels at Derwent  are purpose built to the highest standard, each one has access it its own individual out door run. Inside the kennels are warm and cosy, we recommend you bring your dogs favourite bed or blanket to make it feel like home from home, but if it does get a bit chilly each kennel has its own under floor heating to keep them snug.
As well as access to their out door run each dog is taken for two long walks a day where they can run, sniff and do doggy things! Where possible we use extender leads to allow them freedom to run and play safely. We also have a large outdoor enclosed grass area where dogs can play safely off the lead and make new friends – play tag or chase a ball there is always someone to play with.
We can provide high quality food for your dog, or you are welcome to bring you own food; or request a specific brand when booking to make sure we don't get any upset tummies.
Requirements:
To make sure all our guests are kept safe we do insist on the following:
All dogs must be vaccinated – including kennel cough

Each guest must have a valid vaccination certificate which stays with them throughout their stay.

All dogs must have a collar with an identity tag. (except in exceptional circumstances)

All dogs must be up to date with worming and fleas control
Arrivals
On arrival we make sure your dog settles before we leave them alone in their kennel – sometimes they just need an extra cuddle for reassurance, or some might need to play ball for a while!
Check us out
We know that leaving your pet can be a big deal, thats why we are more than happy for you to visit us and check out our facilities before you book your pet in. all we ask is that you call so we can make sure we are in – we are usually up in the fields on walkies!
Pamper your Pooch!
We also offer dog grooming treatments, so why not let us give your dog a pamper ready for when you get home?
Click here to visit our Dog grooming page for more information >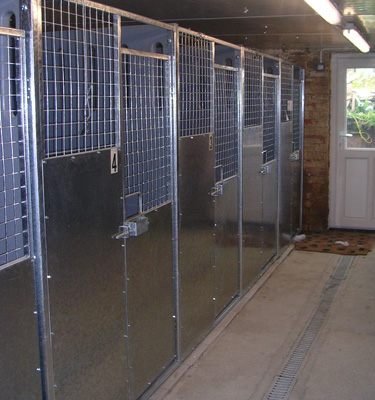 Boarding Fees
Our fees are per day, so if you  have a busy day you can drop your pet off and they don't have to stay over night.
Per day includes day of arrival plus day of departure, unless you collect before 9.30 am, then we do not charge for that day as we can use the kennel again later in the day.
1 Dog £15.00

2 Dogs Sharing £25.00

3 Dogs Sharing £30.00

1 Cat 1 Dog £22.00
Please note we do not accept debit or credit cards. Minimum 2 day fee for an overnight stay.